JOSÉ ESTEVES COLLECTION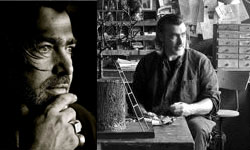 "Jose Esteves lighting creations are truly a balance between art and function."
Based out of a workshop in the countryside of western France, Jose Esteves is a native of Bragance, Portugal which is a region that serves as the core inspiration of his work. Handcrafted in steel mesh and metal, Esteves' pieces are elegant and expressive works that simultaneously evoke modernity and the antique. Interieurs exclusively offers the Jose Esteves Collection, in addition to commissioning an annual limited edition series in which each light is a unique work of art constructed from objects Jose finds both precious and infused with meaning.